The National Institute of Justice recently released information about the problem of criminal justice reform,
NIJ's Multisite Adult Drug Court Evaluation highlights important considerations when analyzing the costs and benefits of crime interventions.
Policymakers, philanthropists, and others interested in what works in reforming criminal justice policy and practice are concerned traditionally with whether new approaches have better outcomes than business as usual. But funders at all levels increasingly see themselves as investors and are concerned not only with outcomes but also with costs and benefits. They ask whether the investment of additional resources is worth the added costs — and whether they will see those benefits down the road in their budgets. A cost-benefit analysis (CBA) can help answer these questions, but its application to criminology can be tricky. 
The PEW charitable trust released this interesting chart. This chartbook examines the long-term increase in U.S. incarceration and highlights three key drivers of the recent decline:
States have shown it is possible to reduce imprisonment and crime rates at the same time.

Research has identified effective alternatives to incarceration.

Voters across the political spectrum strongly support criminal justice reform.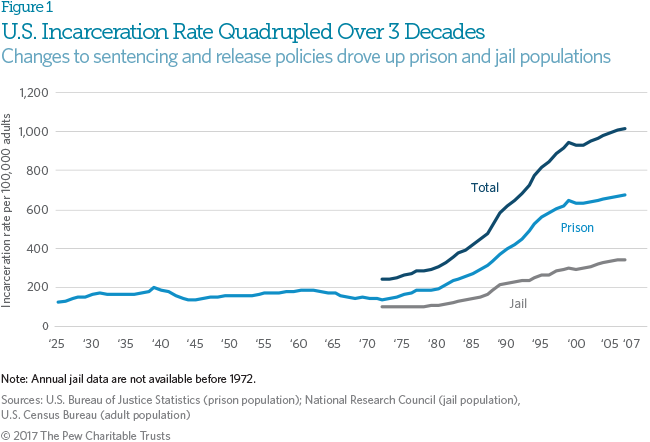 After remaining relatively stable for half a century, the U.S. incarceration rate grew more than fourfold between the mid-1970s and mid-2000s. In 1972, 1 in 417 adults was in a state or federal prison or a local jail, but by 2007 that rate had reached 1 in 100 adults, or roughly 2.3 million of 230 million adult Americans. Changes in crime rates contributed "virtually nothing" to the growth in incarceration during this period, according to the National Research Council.  Instead, policy changes that increased prison admissions and extended the amount of time served were responsible for the dramatically higher incarceration levels. Between 1990 and 2009, state prison terms grew by an average of 36 percent, or nine months, to nearly three years.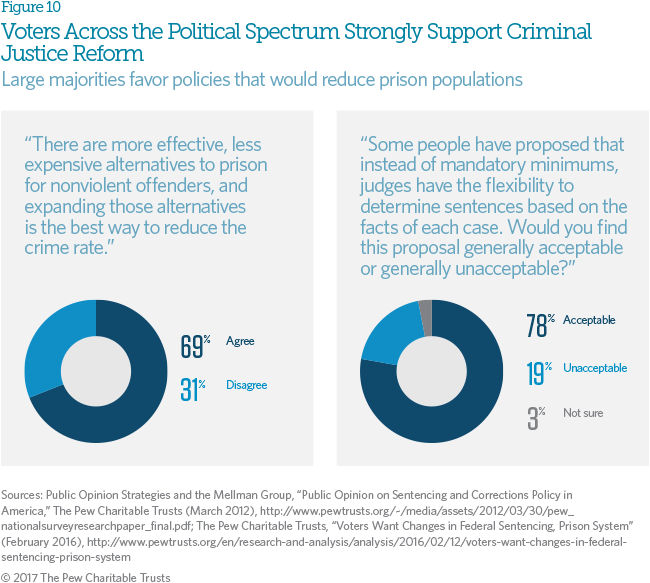 Sources: https://nij.gov/journals/272/Pages/cost-benefit.aspx, The Pew Charitable Trusts, Time Served: The High Cost, Low Return of Longer Prison Terms (June 2012), http://www.pewtrusts.org/~/media/legacy/uploadedfiles/wwwpewtrustsorg/ reports/ sentencing_and_corrections/ prisontimeservedpdf.pdf.